---
EGE Flow Sensors
Compact Model · Series SN 450

Monitoring Equipment for Fluids

Linear analogue output 4...20 mA
Self-contained sensor
One-piece special steel sensor
LED-Line
The compact SN 450 range of flow sensors have a linear analogue 4-20 mA output. This
provides the user with a measure of the flow velocity that can be calibrated. They are
suitable for use when monitoring the flow of liquids. The probe must be positioned in the
pipe in such a way that the tip is fully immersed in the medium. With the largest flow, the
instrument is set to an initial current of 20 mA by means of the trimming potentiometer. If
there is no flow, the output current will be 4 mA. The largest detectable flow speed is 1.5
m/s.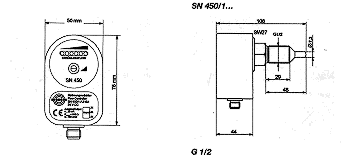 TYPE SN 450/1-A4-GA
DESIGN Compact model G1/2 stainless steel A4 24 V DC




Technical Data
Supply voltage
24 V DC +/- 10%
Current consumption
< 100 mA
Output
Analogue 4...20 mA
Load
< 500 Ohms
Temperature range
-20...+70°C
Response time (90%)
ca. 10 s
Linear deviation
< 10 %
Material sensor
AISI 316 Ti
Material housing
Polyamid
Compressive strength
30 bar
Protection (DIN 40050)
IP 67
Connection
Universal plug system M 12
1 BN + UB
3 BU - UB
4 BK Output 4...20 mA
Measuring range/Adjustment information
The SN 450 GA is preadjusted at the factory to a detection range of 5-150 cm/s. The steepness of the characteristic curve can be changed with the potentiometer in such a way so that even a flow speed of e.g. 50 cm/s an output current of 20 mA can be reached.
In order to do this the potentiometer is turned clockwise while there is a pre-determined flow until the desired final value is reached.


For further information please contact LPC


[Return to EGE Flow Sensors] [LPC Home Page]


Crouzet | Seeka-Takex | Proximity Sensors | Brad Harrison | Siemens | Ege I Omron I Erwin Sick I GOSwitch
Home I Suppliers I Price & Availabilty I Newsletters I Sensor Sourcing I New Products I Special Offers I Site Map I Links I Contact