---
EGE Flow Sensors
Amplifier · Series 400

Amplifiers for use with equipment in hazardous areas

[EEx ia] IIC
LED adjustment
Cable-break monitoring
Time delay
DIN rail mounting
These amplifiers are designed for fitting onto standard DIN rails. They feature an LED line
to give a visual indication of flow rates and for ease of setting. The red LED indicates that
the flow relay is not activated. A yellow LED indicates that flow has just exceeded the set
threshold value and the flow relay is activated. Four green LED's indicate that flow has
exceeded the set threshold value by between 30 and 100% and the flow relay is activated.
An additional output indicating temperature can be set by potentiometer. When the pre-set
temperature is exceeded, the relay is activated and a red LED is displayed. A time delay
function is also standard on these units which is adjustable between 0 and 25 seconds. The
slimline version is for DC operation. This device does not have the temperature or time
delay functions. It offers the user a lower cost alternative when only a flow out-put is
required, or when space in the panel is limited.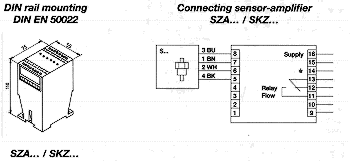 | | |
| --- | --- |
| TYPE | DESIGN |
| SZA 400 Ex-230 | 230 V AC |
| SZA 400 Ex-115 | 115 V AC |
| SZA 400 Ex-24 | 24 V DC |
Monitoring and additional functions
Flow-monitoring
Cable monitoring
Time delay
Note
The amplifier SZA Ex... can operate with sensors of the series 400 which are allowed for Zone 1 (ST...) or Zone 2 (STS.../STEX). The amplifiers have to be mounted outside the hazardous area. The amplifiers have in addition to the standard functions a complete cable-break and short circuit monitoring. Failures are by falling the relay as well as visually through the red LED shown.



Technical Data
Supply Voltage
SZA 400...
Ex-24
Ex-115
Ex-230
24V DC
115V AC
230V AC
Tolerance
+/- 15%
+/- 10%
+/- 10%
Power consumption approx.
2.3W
2.2VA
2.2VA
galvanic isolation between

control circuit,

measuring circuit

and power supply

375 Vs
Sign
[EEx ia] IIC
Confirmation of conformity
PTB No. Ex-93.C.2020

ASEV 95.1 10889

Max. values
Voltage Uo
13.65 V
Current Ik
200 mA
Internal resistance Rj
68.3 ohms
Power Pm
0.69 W
Max.permissible
external inductivity
0.5 mH
external capacity
170 nF
Switching output
Relay/1 change-over
Control circuit AC
Voltage Umax
250 V
Current Imax
4 A
Load cos
> or = to 0.7
Control circuit DC
Voltage Umax
60 V
Current Imax
0.5 A
Load L/R
< or = to 50 ms
Ambient temperature
-20...60°C
Time delay-off adjustable
0...25 s
Cable-break

monitoring sensor

all wires
Short circuit

monitoring

all wires
Connection
terminal screws
Setting range of the

flow velocity

depends on the

detection range of the

connected sensors
[Return to EGE Flow Sensors] [LPC Home Page]


Crouzet | Seeka-Takex | Proximity Sensors | Brad Harrison | Siemens | Ege I Omron I Erwin Sick I GOSwitch
Home I Suppliers I Price & Availabilty I Newsletters I Sensor Sourcing I New Products I Special Offers I Site Map I Links I Contact