---
EGE Flow Sensors
Sensors Zone 1 · Series 400

Sensors for use in hazardous areas

Flow and level control
Adjustable above and below set-point
Flow failure monitoring
For mounting in pipes and tanks
Many of the EGE flow sensors are approved for use in hazardous areas. Units are available
for use in both Zone 1 and Zone 0 areas. Only sensors for which a certificate of conformity
has been issued by the PTB can be used in Zone 0. The sensor and the corresponding
amplifier must be approved as a functional unit. Switching amplifiers that are not mentioned
on the certificate must not be used. Our experts can advise you on the correct choice. If
sensors, or sensor cables need to be outdoors, a lightning protection unit must be installed.
This accessory is inserted into the sensor line, between the sensor and the switching
amplifier. It limits lightning-induced voltages on the sensor line and diverts them to earth.
Intrinsically safe switching amplifiers have galvanic separation between the intrinsically safe
and non intrinsically safe zones. The switching amplifier must always be mounted in the safe
area.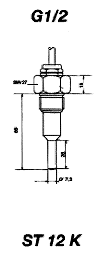 TYPE
SENSORS FOR ZONE 1 - EEx ib IIC T6
ST 3 K
G1/2
Long thread
Cable
TYPE
FOR USE IN GASES
ST 12 K
G1/2
Short thread
Cable
Technical Data

Confirmations of conformity
ST...
PTB No. Ex-93.C.2170
Sign
EEx ib IIC
Internal Capacity
neglectably small
Internal Inductivity
neglectably small
Temperature classes
max. ambient temperature
T6
50°C
T5
65°C
T4
70°C
Setting range
Water (nominal flow)
1...100 cm/s (20 cm/s)
Oil (nominal flow)
3...200 cm/s (60 cm/s)
Air (nominal flow)
2...20 m/s (4 m/s)
Temperature range
-20...70°C
Temperature gradient
250°C/min
Thermal shock time
typ. 12 s
Standby time
typ. 8 s (2...18 s)
On transition time
typ. 2 s (1...13 s)
Off transition time
typ. 2 s (1...15 s)
Protection (DIN 40050)
Cable
IP 68
Plug version
IP 67
Material sensor (DIN 17440)
Stainless steel AISI-316 Ti
Tightening torque thread
100 Nm
Connection cable version
2m PUR blue / 4 x 0.25 mm²
Connection plug version
Universal plug

Code: BK=black BN=brown BU=blue GN=green YE=Yellow GY=grey PK=pink WH=white

For further information please contract LPC


[Return to EGE Flow Sensors] [LPC Home Page]


Crouzet | Seeka-Takex | Proximity Sensors | Brad Harrison | Siemens | Ege I Omron I Erwin Sick I GOSwitch
Home I Suppliers I Price & Availabilty I Newsletters I Sensor Sourcing I New Products I Special Offers I Site Map I Links I Contact