---
Siemens

Quick, Uncomplicated and Economical: Programming your BEROs with SONPROG

The Siemens BERO® proximity switches have proved their worth in a variety of applications, including arduous conditions. With the PC program SONPROG, you can now make even better use of the numerous advantages of the Sonar BERO Compact Ranges II and III. SONPROG represents a quick, uncomplicated way to even more versatile and economical use of BERO proximity switches in industry.
Interface for optimised matching
The SONPROG program provides you with an interface by means of which all the parameters of the Sonar BERO can be quickly examined, modified and consequently matched to special application conditions.
Adjustable parameters for compact ranges II and III
Beginning/end of operating range
Switching hysteresis
Blind zone (close range)
End of sensing range
Switching function (NO and NC)
Additional adjustable parameters for compact range III
Beginning/end of analogue characteristic curve
Rising/falling analogue characteristic curve
Mean value formation
Multiplex function
Function as button or barrier
Switching frequency
Damping (sensitivity)
SONPROG brings significant advantages
You can quickly find the right setting for the particular object(s) to be sensed
Setting values can be stored
Setting values can be documented (printout)
Rematching is no longer necessary. Replacement Sonar BEROs can be quickly and easily programmed with the stored data
The SONPROG PC program consequently greatly simplifies your system maintenance and documentation procedures.

Software, hardware
The SONPROG program is suitable for all MS-DOS compatible computers as of Version 3.1, and for a graphics-capable CGA, EGA or VGA screen. The 3RX3000 interface is connected to one of the serial interfaces (COM1 or COM2) of the PC. The fixed cable features a 9-pin plug. Standard adapters can be used. The scope of supply comprises the interface with power supply cable, the connecting lead to the BERO and to the PC, and the SONPROG program.

Sonar BERO proximity switches of compact ranges II and III
The Sonar BERO emits ultrasonic pulses. When these are reflected by an object, the BERO can pick up the echo produced and convert it into an output signal. Objects in solid, liquid, granular or powder form can be detected. The switches of the compact ranges are supplied complete and ready for connection; they are, moreover, suitable for work with standard PLCs.
Special advantages of compact range II
Programmable by PC via a serial interface without the additional connection to BERO
Optimized echo sensing and evaluation
Up to 6 sensors sychronizable via common lead without additional switching device
Fourth connection usable as external "enabling" output
Versions available with 2 switching outputs: Blocking range between operating range and blind zone (first output active when object in blocking range, second output active when object in operating range)
Additional advantages of compact range III
Analogue output with resolution down to the millimeter available in 3 versions

0 to 20 mA
4 to 20 mA
0 to 10V

Mean value formation
Separate transmission and receiving operation possible, range consequently doubled and blind removed
Synchronizing or multiplexing of up to 10 devices
High accuracy by virtue of temperature compensation
Further information
Catalogue NS 3.1
Sonar BERO
Program Overview
E20001-P285-A381-V3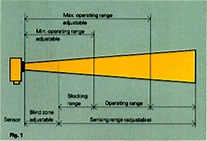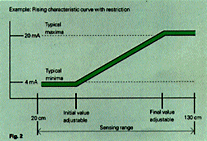 Fig. 1
Distance ranges of Sonar BERO compact ranges II and III
Fig. 2
Characteristic curve of analogue output (rising or falling) for compact range III
---
Crouzet | Seeka-Takex | Proximity Sensors | Brad Harrison | Siemens | Ege I Omron I Erwin Sick I GOSwitch
Home I Suppliers I Price & Availabilty I Newsletters I Sensor Sourcing I New Products I Special Offers I Site Map I Links I Contact